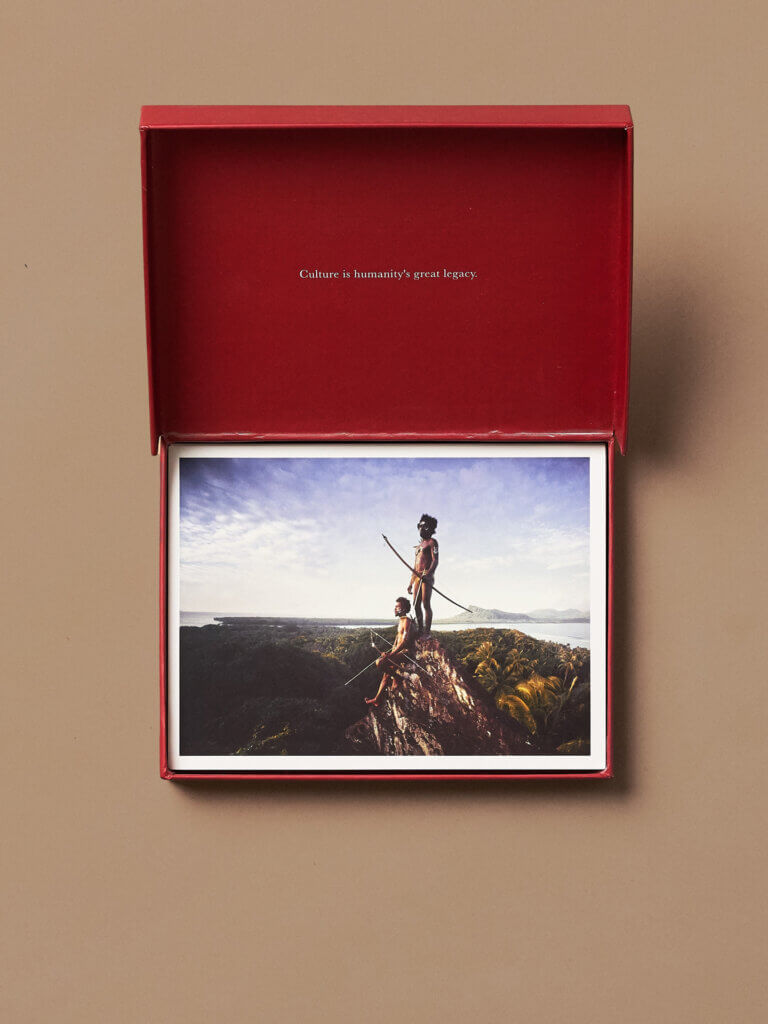 Premium Card Box
Before They Pass Away
24 Art Postcards
Jimmy has selected twenty-four beautiful images from the book Before They Pass Away to be developed into a premium gift box with 24 high-quality art cards.
FREE SHIPPING WITHIN EU FROM €30

ORDERS BEFORE 3PM WILL BE DISPATCHED THE SAME DAY

SECURED AND ENCRYPTED TRANSACTIONS
Premium Card Box

Before They Pass Away
-
€

25,00
24 High-quality postcards

Heavy high-quality uncoated
Spending time within small remote communities is addictive. It puts me in a heightened state, makes me feel truly alive. It is a bright, colourful, ecstatic feeling that I want to share with a world that sometimes feels emotionally beige.
Jimmy Nelson Foundation
With your purchase you support Indigenous communities taking
heir heritage into the future
With its projects, the Jimmy Nelson Foundation (JNF) is completing the circle Jimmy has started. As cultures are rapidly changing through time, and the world's cultural diversity is at risk, now is the moment to act. The JNF supports Indigenous communities in preserving and passing on their traditional heritage and knowledge by investing in reciprocity and educational projects.
We know now how important biodiversity is to a healthy physical environment and how much damage our rapacious appetite for agricultural and urban land has done to it.
The parallels with cultural diversity are clear. Peoples with unique cultural identities need to be truly and effectively respected, cherished and supported, for them and for all of us. Our ethnodiversity, our 'ethnosphere', must also be protected. It is the sum total and manifestation of all the thoughts, dreams, myths, ideas, inspirations and intuitions produced by the human imagination since the dawn of consciousness. It is all that we have created through our endeavours as a wildly inquisitive and astonishingly adaptive species. In short, it is humanity's greatest legacy. Let us ensure that the ultimate legacy is not its own destruction.
Jimmy nelson app
Let the images come
alive
To accompany the cards download the Jimmy Nelson App. Scanning the card with the app will enable you to step into the world behind the image, through your smartphone. Jimmy himself combined with beautiful video material will guide you through breathtaking footage, but above all uncovers the beauty of day-to-day life from all over the world.